In January, the median home in the Austin metro area cost $365,000. It was a much higher price tag than the previous January, but it wasn't too far outside what perhaps should be expected for Central Texas.
Just four months later, the median home price had gone up by a full $100,000, and the averages have hovered around this higher price point ever since. In October, the average Austin-area home sold for $455,000, according to the Austin Board of Realtors.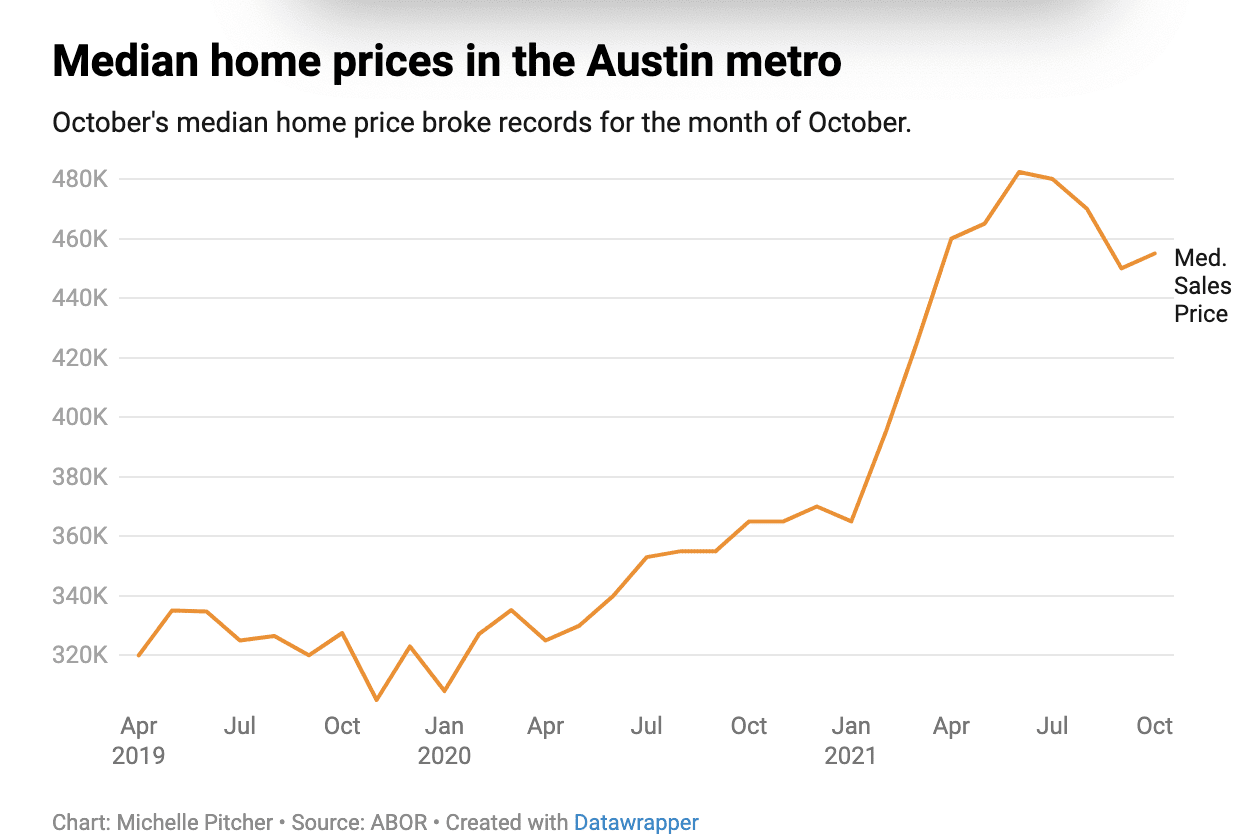 This rapid appreciation raised a question for buyers and sellers alike: Will prices just keep going up? Experts said yes, prices likely won't go down any time soon, but the increases may be relatively modest compared to what we've seen over the past two years.
Zillow Group Inc. (NYSE: ZG) projects national home prices will rise by 13.6% between October 2021 and October 2022. This is the most bullish prediction so far from a national market watchdog — Redfin Corp.'s (Nasdaq: RDFN) prediction puts the national appreciation rate for 2022 at 3%. These national predictions are important litmus tests for what might play out on a local level.
A new report from Realtor.com predicts 3% year-over-year price growth for the Austin metro in 2022, a far cry from the 18.5% increase from January 2020 to January 2021. This prediction puts Austin at the middle of the pack, nationally — a surprise ranking for a metro that's been touted as a poster child for meteoric housing prices over the past year.
Danielle Hale, chief economist with Realtor.com, said the lower predicted growth rate is in large part because of how precipitously prices have already risen. She said while incomes are rising in Austin as the number of high-paying technology and manufacturing jobs grows, it's unlikely that home prices could continue to rise by double-digit percentages without pricing most buyers out.
Hale said when the economy is healthy, home prices typically rise between 3% and 6% in a year, meaning Austin's projected growth rate is in a normal range. That said, a 3% increase from an already record-breaking starting point still means extremely high home prices for Central Texas.
Such a leveling-off also helps quell fears that Austin is in a housing bubble, despite the city being labeled in the New York Times recently as "one of the least affordable cities in America." When many analysts think about bubbles, they think of multiple years of increases near 40% as the "sand states" — California, Nevada, Arizona and Florida — had prior to the 2008 economic meltdown.
A notable mitigating factor for appreciation in Austin is an expected uptick in housing stock, which Hale said will likely counterbalance some of the price increases.
"For buyers this past year, there were so few homes available," Hale said. "Starting next year, buyers will likely feel like they have some more options."
Local housing experts such as Mark Sprague, state director of information capital at Independence Title, have been predicting during the past year that Austin can have a chance at correcting its housing inventory issues around 2023. Inventory is ticking up, albeit slowly. The metro had only one month of housing inventory as of October, according to ABOR, and experts like to see six months of supply.
That has experts expecting home sales to increase. Realtor.com experts predict Austin's home sales will rise by 4.7% year-over-year in 2022.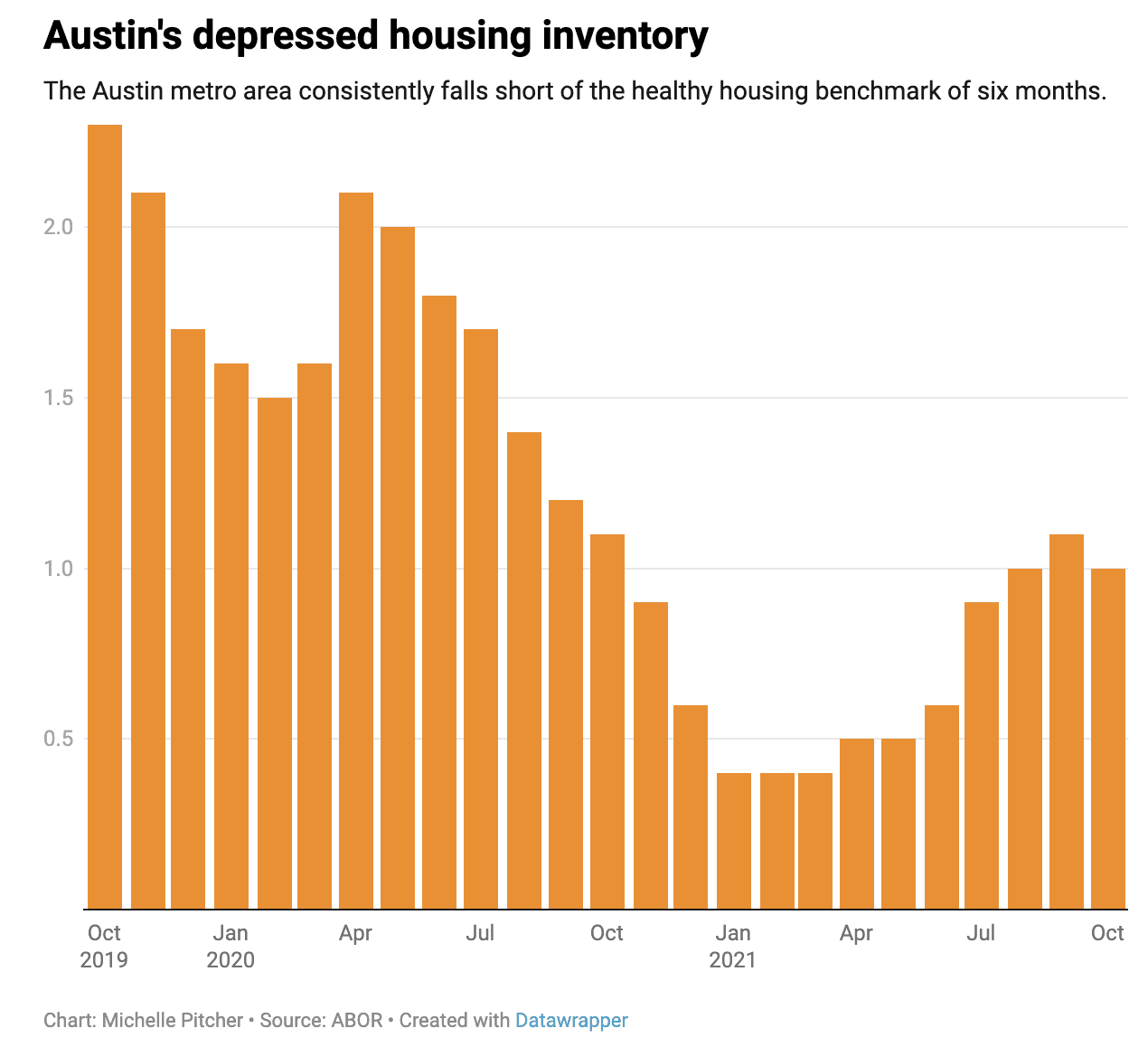 This is a promising prediction for the metro, which saw declining home sales across the board — with the exception of Caldwell County — in October. Metro-wide, home sales were down 12% year-over-year, according to data from ABOR.
One reason for the expected increase in sales is demographics. As more millennials enter peak first-homebuying ages — which experts peg around 32 years old — the number of buyers entering the market will naturally rise, leading to more demand and more closed sales.
The Austin metro may be particularly ripe for first-time homebuyers, as the area skews younger overall. The median age in the metro is 35.2, according to U.S. Census Bureau data. About a third of all residents are between the ages of 20 and 39.
Homes for 2023 selling today
Susan Horton, 2021 president of the Austin Board of Realtors, said these predictions jibe with what the local multiple listings service, or MLS, is showing. She said as a Realtor, she's seeing firsthand indications that home sales are likely to go up. November was a particularly busy month for Horton, with referrals and prospective buyers looking all around Austin.
She said the new homes market will be particularly significant in the coming years, as builders are selling earlier and earlier in the process. Horton said some builders are already selling houses that are projected to be delivered in 2023. She stressed the importance of working with Realtors who are privy to these sorts of inventory types and who can find available properties in a housing-strapped city.
Some Realtors on the ground are skeptical that 2022 will be a mild year for price appreciation, though. Eric Bramlett, broker and co-owner of Bramlett Residential, said he doesn't see any sign that the high rate of price appreciation will abate.
Bramlett said while he doesn't expect another year of historic numbers, he does expect prices to appreciate by somewhere around 20% in the coming year. He said frantic pandemic buying has slowed but other forces, like huge investments by Tesla and Samsung in the region, will likely keep demand growing faster than supply.
"If you look at the demand that we have, and you look at the inflationary environment that we're in with low interest rates — we're in a situation again where we're probably going to see prices go up considerably," Bramlett said.
He said demand and multiple-offer scenarios — where several buyers are vying for the same house, often driving sale prices far beyond the asking price — have not gone away in recent months, when the housing market historically calms down.
As for next year? "Fasten your seat belts," Bramlett said.
Article By Michelle Pitcher – Staff Writer, Austin Business Journal