What housing crisis? These 10 U.S. cities led the race to build over the past decade.
The urban real estate market has been on a roller coaster ride for the past few years. The pandemic initially hollowed out city centers, with their high-rise apartments and office towers. The same demand forces drove residential real estate prices up by a 40% between 2020 and 2022, according to Reuters. Then surging mortgage rates cooled demand, driving sectors like vacation homes down by 50% demand from pre-pandemic levels.
Despite this volatility, several U.S. cities have consistently led the pack in new construction over the past 10 years, according to a new analysis of real estate patterns across the country. And one state stands alone for sheer density of top real estate growth markets.
Southern real estate surge sets a feverish pace
A new study from storage search platform StorageCafe reveals the South has lapped the field in terms of new construction across the residential, commercial and industrial sectors. The study finds that virtually all sectors of the U.S. real estate landscape have undergone wholesale evolutions and large expansions.
Thriving residential construction has bucked pandemic, inflation and supply chain issues. Commercial real estate development produced billions of new square feet but is now readjusting to meet current demands of lower-traffic urban cores. Industrial and self-storage have also seen positive trends in the past decade.
StorageCafe found that Texas is in its own category entirely, containing the five top cities for real estate construction. Meanwhile, the larger Sun Belt region boasts 15 of the top 20 cities with the highest volumes of real estate construction from 2013 to 2022.
Study methods and findings
StorageCafe built its study using new construction data for the country's 100 largest cities in terms of population from January 2013 to December 2022. The researchers analyzed building permits for single family homes and multifamily units, and new deliveries of square footage in the industrial, office, retail and self storage sectors.
The study excluded the following cities for lack of data: Charlotte, NC, Memphis, TN, Anaheim, CA, San Juan, PR, Lexington, KY, Stockton, CA, Santa Ana, CA, Fort Wayne, IN, Laredo, TX, Arlington, VA, Enterprise, NV, Spring Valley, NV, Huntsville, AL, Fayetteville, NC, Fontana, CA, Honolulu, HI, and Yonkers, NY.
The study's top 10 cities for the past decade of real estate development are as follows: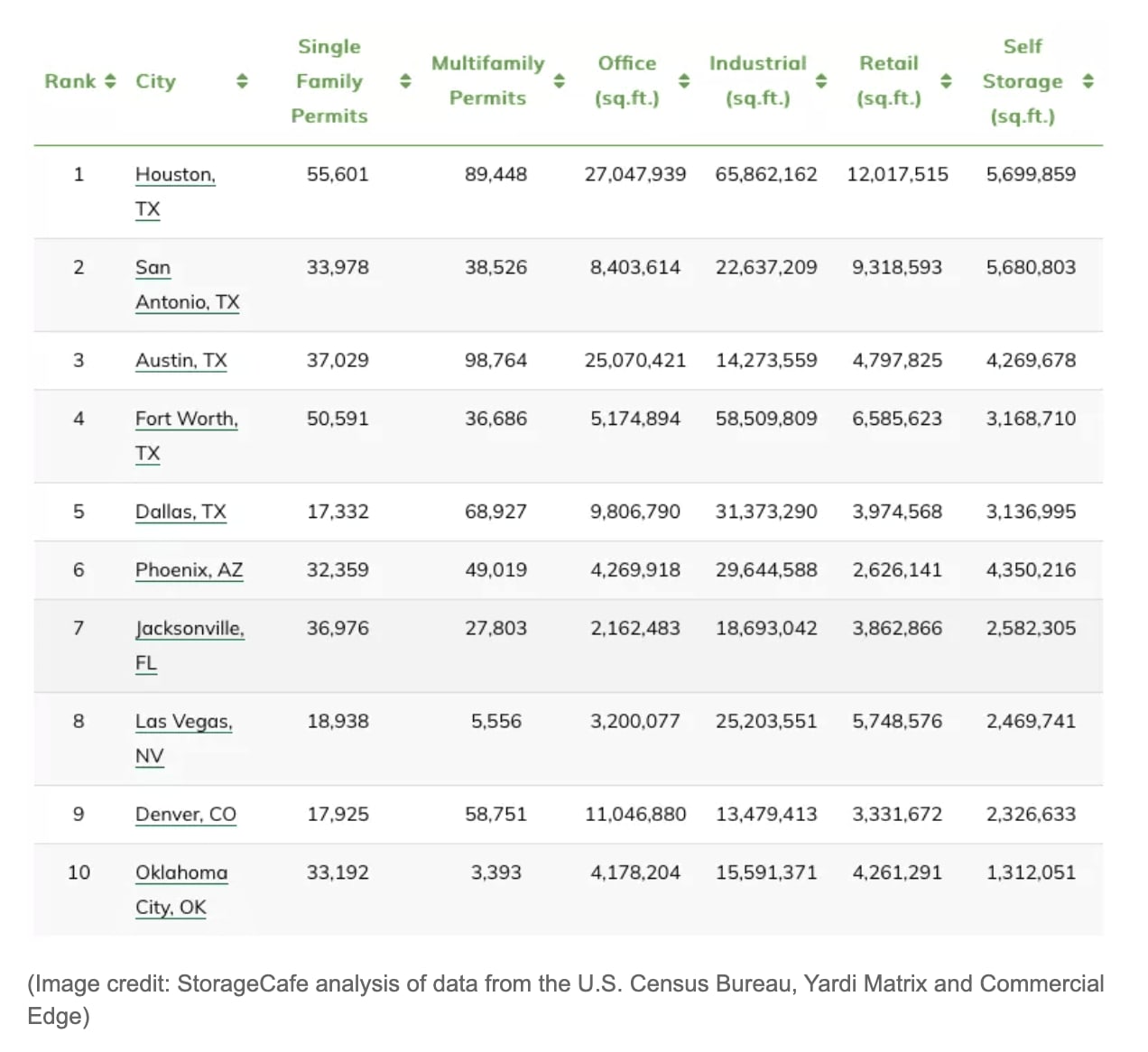 The bottom line
The real estate sector as a whole has surged overall in the past 10 years, over led by the Sun Belt. According to the study, some of the top cities for new construction reflect growing retiree populations (Florida, Arizona), while others have responded more to economic transplants attracted to lower cost of living and thriving job markets (Texas, Nevada).
Major metros in the East Coast, West Coast and Midwest have also experienced significant real estate gains, not enough to offset rising demand and cost of living. Absent significant demographic or policy shifts, Americans can expect more of the same in the coming decade.