The nation's fastest-growing cities are more like popular suburbs located just outside of the hottest real estate markets. And they are all clustered in just two states: Texas and Arizona.
During the height of the COVID-19 pandemic, smaller cities just beyond the city limits of Austin, TX, and Phoenix, AZ, grew at the fastest clip in the country from July 2020 through July 2021, according to a recent U.S. Census Bureau report. (The report looked at cities with at least 50,000 residents.)
"Movers are taking advantage [of their newfound ability to work remotely], and we're seeing more people relocate to the South and West," says Realtor.com® Chief Economist Danielle Hale. "As a result of the popularity, these areas have seen an influx of people, and in some cases struggled to accommodate them all. Many Sun Belt markets have topped our lists of the areas where home prices and rents are rising the fastest."
The population of Georgetown, TX, about 30 miles north of Austin, shot up 10.5%. As a result of all of those new residents needing places to live, the median home list price in Georgetown hit $589,500 in April, according to the most recent Realtor.com data. That was up about 33.2% from the previous year.
The city was followed by Leander, TX, which is about 30 minutes northwest of Austin. The population shot up 10%, while home prices rose 31.3% year over year in April, to $599,000.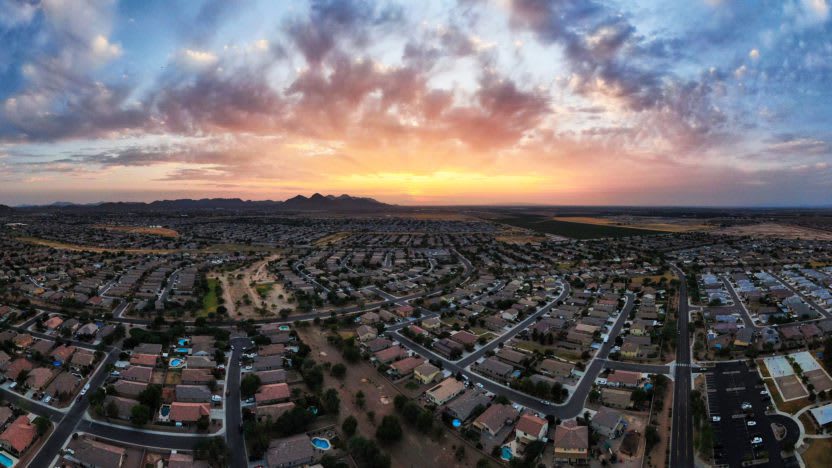 Queen Creek Town, AZ, about 40 minutes southeast of Phoenix with a $740,000 median price, and Buckeye, AZ, about 40 minutes west of Phoenix with a $485,000 median price, were next on the list. Their populations grew 8.9% and 8.6% respectively.
Rounding out the top five was New Braunfels, TX, between Austin and San Antonio, TX, at 8.3%. The median home list price in the city was $540,000 in April.
The rest of the top 15 were Fort Myers, FL; Casa Grande, AZ; Maricopa, AZ; North Port, FL; Spring Hill, TN, outside of Nashville, TN; Goodyear, AZ; and Port St. Lucie, FL. The last three, Meridian, ID, Caldwell, ID, and Nampa, ID, were all Boise, ID, suburbs.
"Areas like Boise have topped our Wall Street Journal/Realtor.com Emerging Housing Markets Index because it offers great quality of life and real estate value," says Hale of the index that predicts the next hot real estate markets.
Meanwhile, more than half of the nation's 15 largest cities lost residents. Many folks who could suddenly work from anywhere with a reliable internet connection relocated to be closer to family and friends or to save money.
Pricey New York City lost the most residents as more than 305,000 New Yorkers left the city. However, it remained the country's largest city with a population of about 8.5 million.
The rest of the cities where populations fell were Chicago, at -45,000 residents; Los Angeles, at -40,500; San Jose, CA, at -27,000; Philadelphia, at -25,000; Dallas, at -15,000; Houston, at -12,000; Indianapolis, at -5,300; and San Diego, at -3,800.
Article By: Clare Trapasso, Realtor.com