When it comes to affordability, Texas reigns supreme.
Based on expense-to-income ratio, four of the top 10 most-affordable places to live in the Southern United States are in Texas, the Ascent reported.
Cedar Park, a fast-growing suburb north of Austin, earned the No. 1 spot on the list. Its average cost of living is $61,774, compared to a median household income of $86,530.
San Marcos, a growing college town between San Antonio and Austin, was ranked second in affordability. With a median income of $86,530 and a $64,652 cost-of-living estimate, San Marcos has an expense-to-income ratio of 1.338.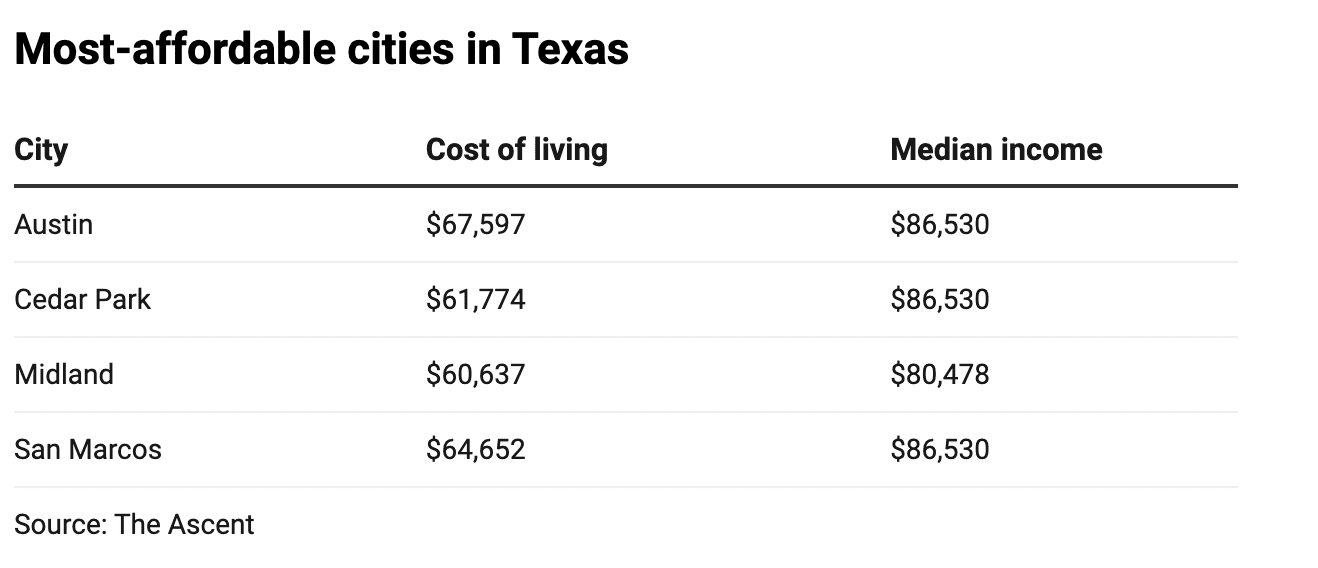 Midland took the next spot to round out the top three. The Permian Basin town between El Paso and Fort Worth is extremely affordable, while also offering high wages. Its median household income is $80,478, compared to a $60,637 in cost of living. Housing costs are 22.9 percent less than the national average, the outlet said.
Austin was the only other Texas city to crack the top 10, coming in at No. 8 on the list. The capital city's estimated cost-of-living of $67,597 is considerably higher than other Texas cities on the list, but it also boasted a median household income of $86,530, equating to a 1.28 expense-to-income ratio. The median home price in the Austin metro is $478,900, and that includes Cedar Park and San Marcos.
In a separate study by TexasRealEstateSource.com, numerous factors were analyzed to determine the most affordable cities in Texas, such as property taxes, utilities and home prices.
Midland was deemed the most affordable place to live in the Lone State State, according to the study. Its average personal income per capita of $125,455 was the highest among Texas cities, and it had the lowest property tax rate at 1.63 percent.
Killeen, which is a little over an hour north of Austin, ranked second. It scored high based on a low property tax rate of 1.96 percent and low internet costs.
Odessa earned the no. 3 spot on the list. Just twenty miles southwest of Midland, Odessa residents enjoy affordable schooling and recreational activities.
The following Texas cities rounded out the top 10: Amarillo, Wichita Falls, Kerrville, Beaumont, Longview, Tyler and Abilene.
READ THE FULL ARTICLE HERE