Florida saw some of the biggest spikes in home-value appreciation in 2021, a year like none other for the housing market.
The Business Journals analyzed home-value data for the 100 largest metropolitan areas, as tracked by Zillow Group Inc. (Nasdaq: ZG), between Dec. 31, 2020, and Dec. 31, 2021. The U.S. housing market, across all 933 markets analyzed by Zillow, saw values jump 19.6% in that period, but most of the largest metro areas outpaced that rate of growth — some by a wide margin.
Unsurprisingly, a certain Texas capital city took the top spot, with more than 44% growth in home values over the year. But the state of Florida had the largest number of areas represented among fastest home-price appreciation. Areas in and around the Salt Lake City metro also outperformed.
It's interesting to look back, but what's next? Groups that closely track the housing market have different ideas about which housing markets will see the biggest growth this year. Zillow, for example, is predicting Tampa, Florida, will be the hottest housing market in 2022, followed by other Sun Belt stars: Jacksonville, Florida; Raleigh, North Carolina; San Antonio; and Charlotte, North Carolina.
All of those metros had better-than-average rate of home appreciation in the past calendar year, with Raleigh and Tampa, in particular, seeing the biggest gains in 2021.
Santa Clara, California-based Realtor.com is betting on more geographically disparate growth this year, with Salt Lake City; Boise City, Idaho; and Spokane, Washington, grabbing the top spots for its prediction of the hottest markets in 2022. Those metros also posted near or slightly above 30% growth in home values in 2021.
The largest metropolitan areas in the U.S., which remain New York and Los Angeles, saw values rise in 2021, but at a more modest rate.
New York's typical home values, as tracked by Zillow, went from $509,919 in December 2020 to $573,813 in December 2021, or growth of 12.5%. Values in the Los Angeles-Long Beach-Anaheim MSA grew 17.9%, from $736,530 to $868,350. Growth was more prolific in secondary and tertiary markets, underscoring the theme of migration out of more expensive, densely populated metros to smaller, and often more affordable, cities.
The adoption of remote work could shake up where people and jobs move to next, in 2022 and beyond, and ultimately create more demand in the Sun Belt, the Midwest and Mountain West regions. Some overlooked or off-the-beaten path housing markets may also provide savings for first-time homebuyers and renters that are more mobile than ever.
The 2022 housing market is already off to a competitive start with inventory, once again, proving to be the biggest headwind.
Seattle-based Redfin Corp. (NASDAQ: RDFN) found home listings across the U.S. fell 12% year over year, which sent the total number of homes for sale down 29%, in the four-week period ending Jan. 16. Pending sales were up only 1% year over year.
The median home sale price in the period ending Jan. 16 was $358,500, a 14% annual jump. Meanwhile, mortgage rates are rising quickly. In fact, 30-year mortgage rates were up to 3.56% — the highest level since March 2020, the official start of the pandemic — on Thursday.
It's forecasted among economists that rising mortgage rates could ease demand for homes, but mortgage-purchase applications were up 8% week over week for the week ending Jan. 14, Redfin found.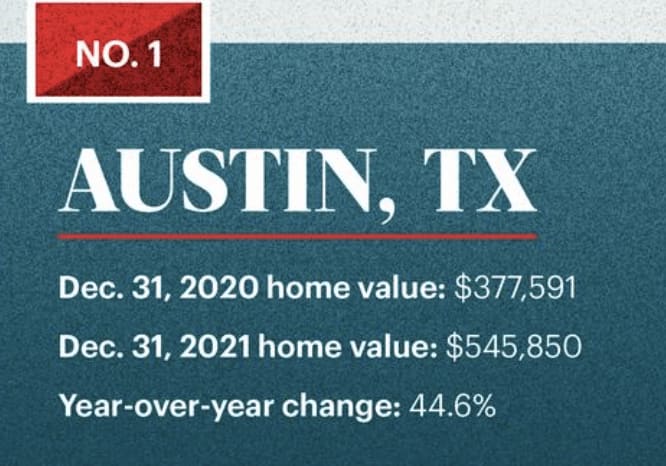 Article By Ashley Fahey – Real Estate Editor, The Business Journals