Anyone who keeps an eye on the headlines knows the housing market has been topsy-turvy over the past few years. First, the rush to move during the pandemic put a crunch on already tight inventory.1 This skyrocketing demand ushered in soaring home prices, which have risen nearly 30 percent since 2019. Then the past year brought higher mortgage rates resulting in less competition, which has led to some small gains in inventory, depending on the market.
The ups and downs of the housing market might have you questioning if homeownership remains a good investment. The answer is a resounding yes.
Owning a home strengthens you in terms of wealth building for you and for future generations. The ability to pass down wealth gives families a significant financial advantage that plays out in the ability to avoid costly debt.
And even when the market fluctuates, REALTORS® — real estate professionals who are members of the National Association of REALTORS® (NAR) and adhere to its strict Code of Ethics — can anchor clients through the process and make buying or selling a home more attainable than it might seem.
A Solid Investment
Although the market has experienced some turbulence, market fluctuations don't erode the long-term advantages of home buying and selling. In fact, over the last 30 years, despite downturns in the market like the Great Recession, homes have continued to appreciate, according to NAR data.
Real estate can also be a hedge against inflation. As rents soar, a fixed-rate mortgage means your housing costs can stay the same, even as your property value increases.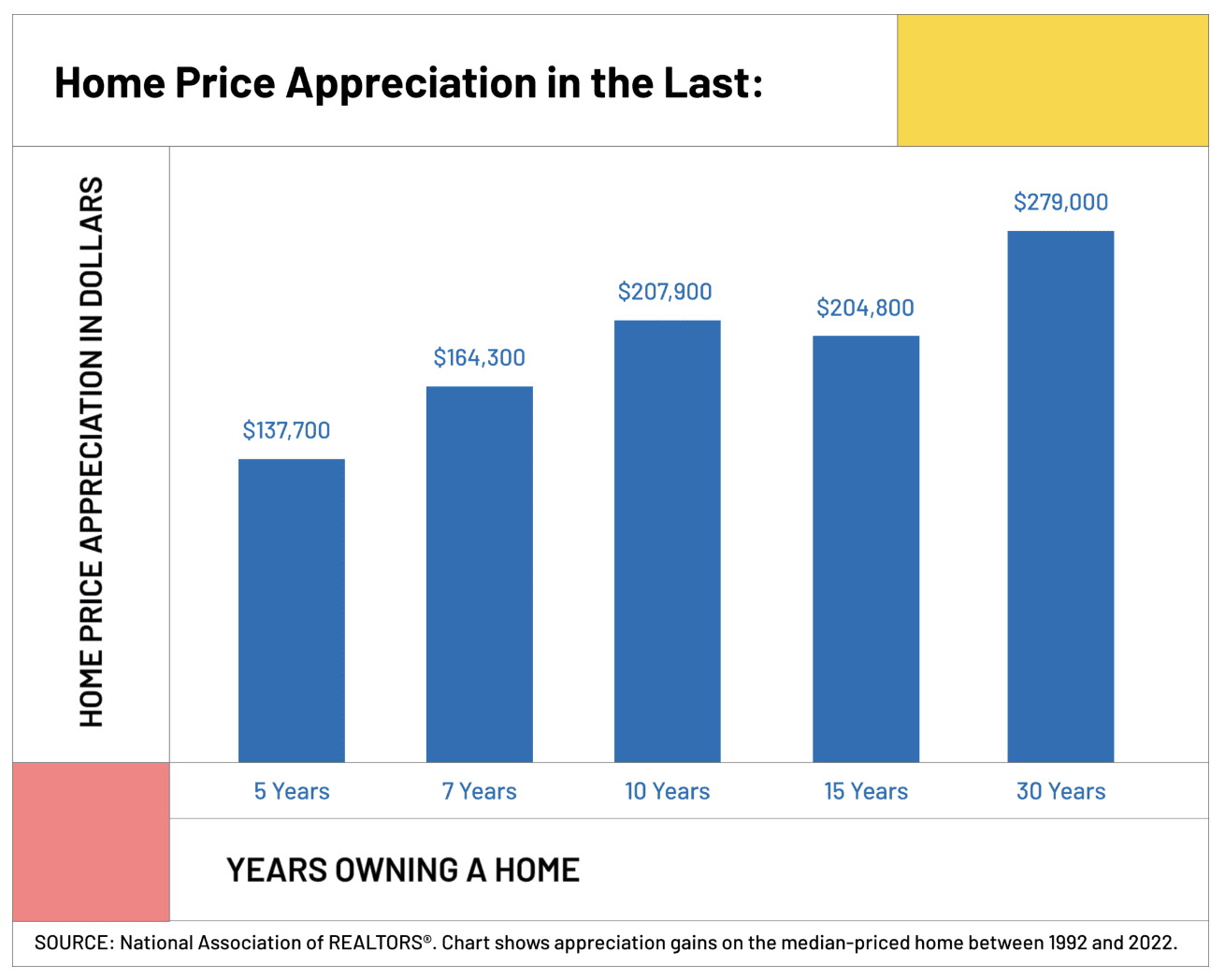 "If you own a property and you see inflation for over a hundred years, real estate keeps pace with that inflation," said Bill Lublin, a REALTOR® and broker in Southampton, Pa. "So the value of your asset grows, even in times of inflation."
"The percentages of appreciation may change, but historically, over time, your house will appreciate," added REALTOR® Kristy Hairston, based in Nashville.
Owning a home has always been a significant way to build wealth. In 2021, the median net worth of a homeowner was about $300,000, while that of a renter was $8,000. Home ownership also provides owners with multiple options for seeing a return on their investment, or for optimizing their property's use.
"Homeowners could sell their home, they could keep it, they could put a tenant inside and keep it for longer periods of time," Hairston added. "That flexibility is so important to generational wealth and can even provide housing for a family member later on down the road."
Bolstered by Transparency
When making a long-term investment in a home, or reaping returns on one, home buyers and sellers want to know that they're receiving fair and open information — especially in a changing real estate market. That's where the technology that real estate agents use comes into play. Multiple listing services (or MLSs) act as a local marketplace for brokers, who, despite being competitors, contribute and share listings to create greater access, transparency and equity for all consumers.
"These local broker marketplaces are a tremendous resource that lets us share information and collaborate with other brokers within our market," Davis said. "By using this shared information, we are able to give our clients all of the options that are available for them, empowering them to make their own decisions."
Local broker marketplaces benefit the seller by increasing the number of eyeballs on their property, and they help the buyer by providing one place for all listed properties, no matter which broker you work with. Agents use search tools in their local MLS to find properties that match their clients' needs, whether that's a home of a certain size or within a set budget. Consumers can confidently rely on the information in an MLS. That's because MLSs require real estate agents to share complete and correct property listing data, further ensuring accuracy and transparency.
Tips For Navigating Today's Market
1. Consider creative financing - A real estate professional can help you find down payment assistance resources and provide advice about different types of loan products, such as those from the Federal Housing Administration (FHA), which require less money down.
2. Stay in close contact with your agent for up-to-the-minute market changes - the market can pivot within a week or two, so make sure to pay attention to updates from your agent.
3. As a seller, work with your agent to arrive at a smart asking price - With the right price, you'll reduce your time on the market.
4. Use less competition to your advantage - With increasing gains in inventory, the opportunity to get the home you want or potentially to negotiate price is greater than it was a year ago.
5. Sellers should remain optimistic - Although people aren't necessarily beating down your door and offering thousands and thousands of dollars more than the list price, the price sellers are getting for their home, in most cases, is an elevated price than what they would've gotten three years prior," said REALTOR® Kristy Hairston, based in Nashville.
6. Work with an agent who has the knowledge and experience to help guide you home - As part of the #1 brokerage in the country, we have endless support and a vast network of professionals at our service to facilitate your transaction. Our 35+ combined years in Austin's Luxury Market has landed us as Austin's #1 Real Estate Team by the Austin Business Journal. Let us put our experience to work for you! Contact us today to schedule a viewing and let us help you find your dream home.