A tower project set to become the tallest in the state has received an approval of its permit from the City of Austin, according to site plan updates from earlier this month and a LinkedIn post by WGI engineer Augustine Verrengia that set the city's skyscraper enthusiast community on fire over the weekend, including several new views of the record-breaker set to rise at the corner of East Cesar Chavez and Red River Streets.
This mixed-use office, hotel, and residential tower known as 98 Red River Street is the vision of a team including developers Lincoln Property Company and Kairoi Residential, New York architects Kohn Pedersen Fox Associates and Dallas design studio HKS; civil engineers at WGI, and local firms TBG Partners and Nudge Design respectively handling landscape architecture and urban design.
Site prep work is already visibly underway at the future tower's approximately 3.3-acre site, with recent trail closure notices noting an estimated construction time of 64 months. According to previous reports, the approximately 2.3 million-square-foot tower will contain a 240-unit hotel, nearly 700,000 square feet of office space, 332 residential units, and 43,000 square feet of general retail space.
Classified as a "supertall," the 98 Red River tower will rise more than 70 floors to a height somewhere between 1,022 and 1,034 feet — the number's not fully nailed down on our end, but the tallest building in Texas clocks in at only 1,002 feet, so however tall this project ends up going, it's set to snag the new state record for height. Located at the confluence of Waller Creek and Lady Bird Lake near the western edge of the Rainey Street District, the building will join a cluster of nearby projects set to create a striking new hub of density on the eastern end of the downtown skyline, making Rainey Street look a little like a whole second downtown inside downtown.
With projects including the Travis, 80 Red River, the Modern Austin condos, the River Street Residences, and the 80 Rainey apartment tower all in various stages of realization nearby, it's difficult to visualize how the supertall will look against the rest of the pack — enter our aforementioned skyscraper enthusiasts, as user Studioinnovatus cooked up a photoshop with the new renderings we saw this weekend to give us a better idea of the future neighborhood: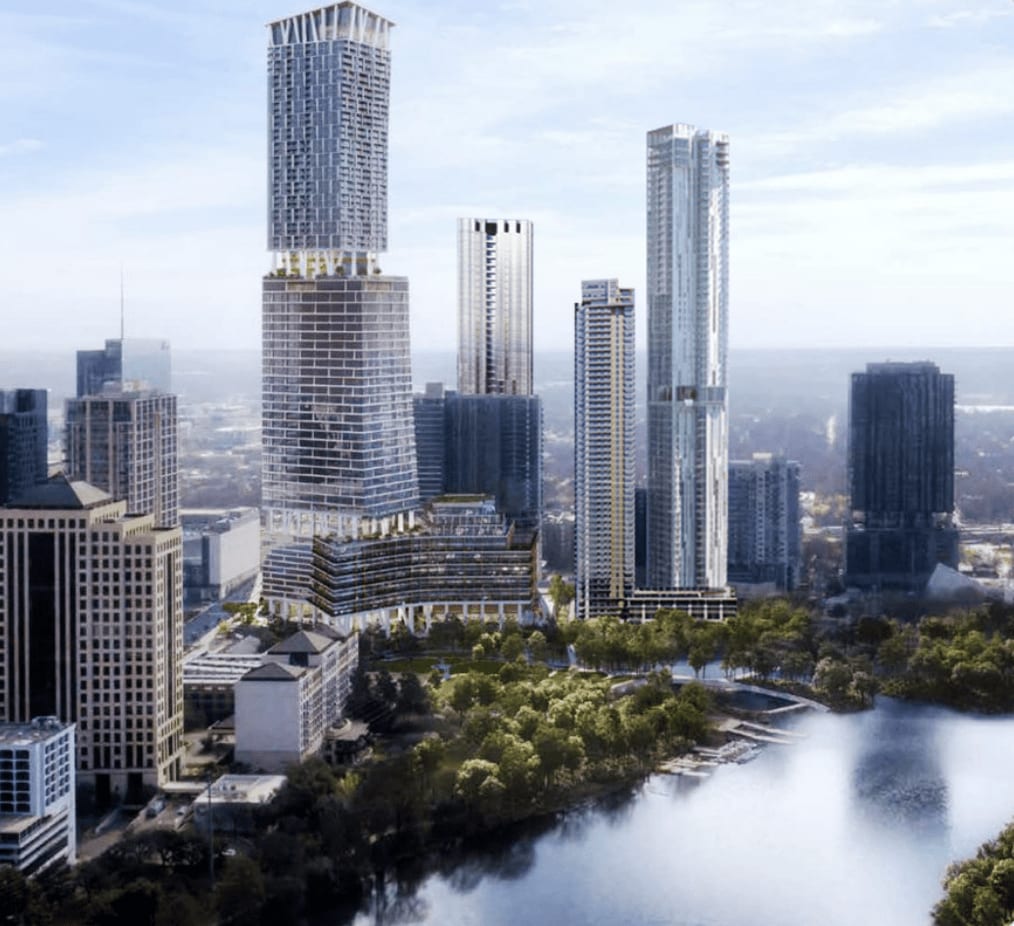 In a city so famously resistant to change, it's a pleasure to see such a sizable contingent of Austinites expressing their enthusiasm for downtown's ongoing growth — but judging by the images above, this city ain't seen nothing yet. The latest permits for the 98 Red River property show heavier construction could potentially kick off by mid-May, but there's no clear date for an official "groundbreaking" at the moment — not that it really needs one, since it's immediately clear from a visit to the site that there's already early work taking place here. This one's a go, people!