One of the biggest redevelopment projects in Austin's history will start rising soon.
Philadelphia-based Brandywine Realty Trust executives said their ambitious 66-acre, $3 billion master-planned and transit-oriented community just east of The Domain is officially under construction. When all is said and done, the Brandywine (NYSE: BDN) project at 11501 Burnet Road will bring online about 7 million square feet of office, residential, retail and hospitality spaces — plus a new MetroRail station — to an area of North Austin between The Domain and Q2 Stadium.
Brandywine's anticipated $3 billion investment is about three times as large as the price tag for the new local Tesla factory, and 7 million square feet is tantamount to building the equivalent of about 15 Frost Bank Towers on the 66 acres. The still-growing Domain development across the street now offers about 5 million square feet of offices and shops.
What has been known as the Broadmoor office campus is now called Uptown ATX, and it promises to extend the boundaries of Austin's so-called second downtown, which now is anchored by The Domain's tall buildings across the street from Brandywine's site. Like The Domain, which is broken up now into two parts with more on the way, UpTown ATX will be built in phases.
The first three projects to be developed on Broadmoor's site are called One Uptown, The Chase at Uptown and Skyrise.
The plan for Uptown
One Uptown, which is already under construction, is a mixed-use project proposing to bring 348,000 square feet of office, 15,000 square feet of ground-level retail and 341 apartment units online. The project's residential component would measure 379,000 square feet.
Brandywine stated One Uptown's price tag is $328 million and is being developed as part of a joint venture it entered with Los Angeles-based Canyon Partners Real Estate LLC.
Brandywine confirmed there are several high-profile tenants interested in the office space, but no one has committed to a lease yet.
The next project up for development would be The Chase at Uptown, a two-building apartment project that would bring 529 apartment units to the 66-acre master-planned site.
Skyrise would be the crown jewel of Uptown ATX – two office towers rising above the entire development and matching other buildings being built at The Domain and adjacent to nearby Q2 Stadium. One Skyrise, the taller of the two buildings, would be 25 stories high and offer 750,000 square feet of office. The neighboring Two Skyrise would be 19 stories high with 550,000 square feet of office.
The new MetroRail station at Uptown ATX is part of a partnership between Brandywine and CapMetro, and it would be built adjacent to the two Skyline towers.
Uptown ATX will feature more than 11 acres of park space and 23-plus miles of bicycle and jogging trails. Brandywine has also committed to meeting the city's affordable housing requirements and keeping those units within Uptown ATX.
"As a transit hub, Uptown ATX will have the unique ability to link people with the exploding growth opportunities occurring throughout Central Texas," Bill Redd, executive vice president and senior managing director for Brandywine, said in a statement. "In establishing Uptown ATX as the new brand, we saw an opportunity to integrate connections to Austin — both physical and philosophical, including increased access to jobs, affordable housing, green space and live/work/play neighborhoods."
Joining Brandywine, the project's master developer, in bringing Uptown ATX to life are Trammell Crow Residential, Page Architects, GFF Architects, Lake | Flato Architects, Kimley-Horn, SWA/Balsley, Coleman & Associates, Lionheart Places, White Construction, Drenner Group, Blum Consulting Engineers, Jones Lang LaSalle and CBRE.
One Uptown's office component is slated to be completed first, with delivery planned for the third quarter of 2023. The residential component of One Uptown is scheduled to deliver by the second quarter of 2024.
Construction of The Chase at Uptown ATX is expected to begin in early 2022. Market conditions will dictate when dirt is moved for the two towers.
Uptown ATX is being built on the campus of tech giant IBM Corp. The structures currently on campus were built in the 1980s and will be demolished as part of the Uptown ATX development, but not before One Uptown, The Chase at Uptown ATC and Skyline towers are completed.
Brandywine has been working on bringing this project, which would be bounded by The Domain on one side and the Charles Schwab Corp. campus on the other, online since at least 2018.
"We are delighted to begin realizing the ultimate vision for Uptown ATX – which will accelerate establishing this area as Austin's second downtown. This community brings unmatched lifestyle and work experiences and is intentionally designed to prioritize bold architecture, community connections, greenspace, walkability, and mass transit access," Brandywine President and CEO Jerry Sweeney said in a statement.
Brandywine is developing Uptown ATX in an area already ripe with major work-live-play uses. The Domain has several mid- and high-rise office and residential buildings mixed in with shopping and dining options. Q2 Stadium, home of Austin FC, is just down the street. Soon, next to the stadium, two more large developments will go vertical: Capella Commercial LLC's 19-story Arena Tower and Karlin Real Estate LLC's Verde Square, which would yield 386,000 square feet of offices, 33,900 square feet of retail space, 280 apartments and a 160-room hotel.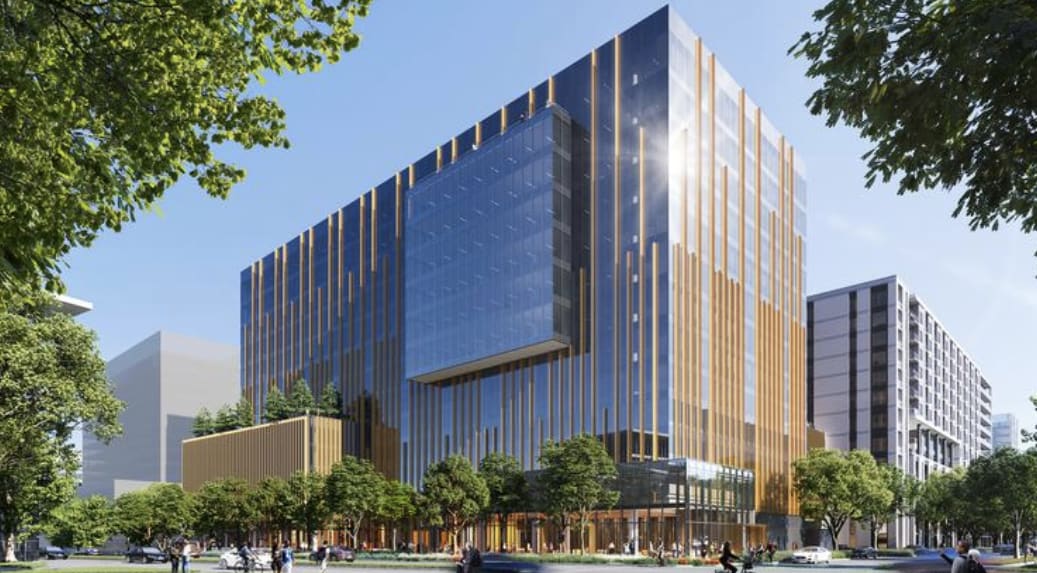 Article provided by the ABJ.